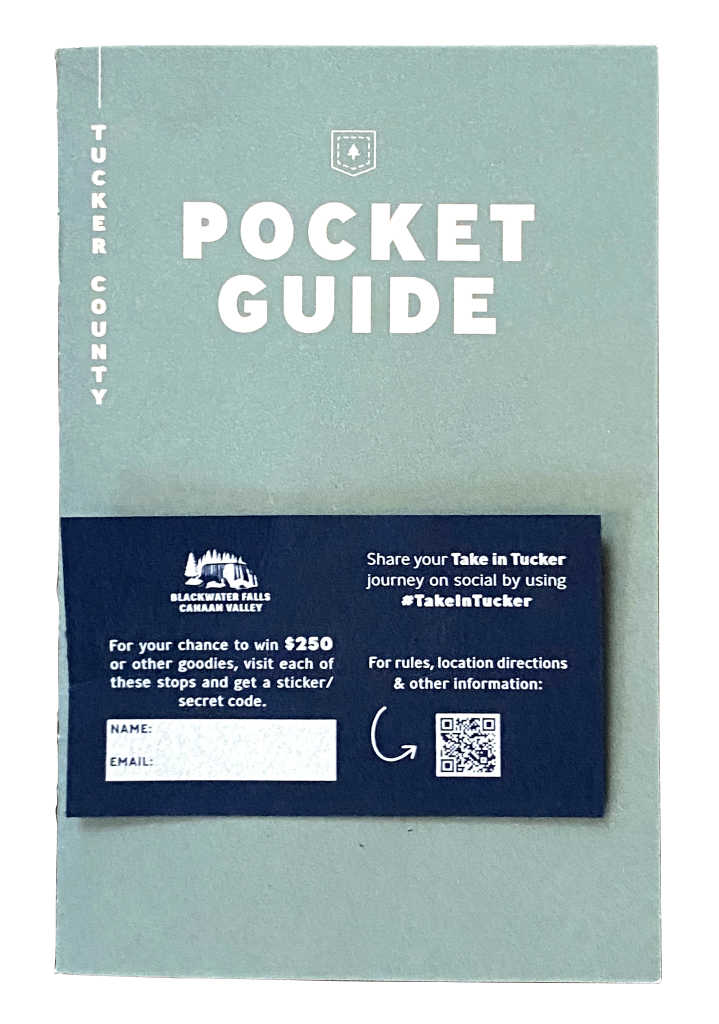 By: Jennifer Dearborn
The year of 2020 forced closures and limited travel due to COVID19. During this time the CVB took advantage of the down time and published a pocket guide book. This small paperback book will guide you through all the adventures the county has to offer.
Attached on the front of the book is a list of five places to stop at in the area to be entered to win $250 and other goodies. There are different stops and at each stop you will receive a sticker/secret code. Once you have all five codes you can then be entered to win.
The introduction of the book states "in Tucker County we like to keep it pure and simple because we believe the best experiences are those surrounded by beauty, nature, adventure, and community.'   It goes on saying the distinctive landscapes and charming small towns guarantee new experiences every season.
---
The book is nineteen pages long and broken down by adventure:
-Biking:  location, difficulty, length of trails
-Hiking: location, difficulty, length of trails, seasonally spectacular trails
-Scenic Views: list of 14 of the best views and most photographed places in the area
-Waterfalls: Blackwater, Elakala, Douglas, and Stair Step Falls are all featured in the book
-Fishing: gives stocking information and where to purchase a license along with the five fishing places
-Water Sports: Rafting, tubing, canoeing, kayaking, and paddleboard descriptions along with places to do each
-Culture and Art: This category is broken into three sections- Davis, Thomas, and Parsons
---
The book is summed up by giving more information on things to keep you busy in the area; from horseback riding, scenic chairlift ride, golf, and the boulder park, it's all in there!
Throughout the book it asks that people share their experiences and see others on social media by using the hashtag #gettuckered. Whether you're eight, eighty, or somewhere in between Tucker County has something to offer you.
Books can be obtained throughout the county in different businesses and also at the CVB in Davis. For more information you may call the CVB, email them, or visit canaanvalley.org.