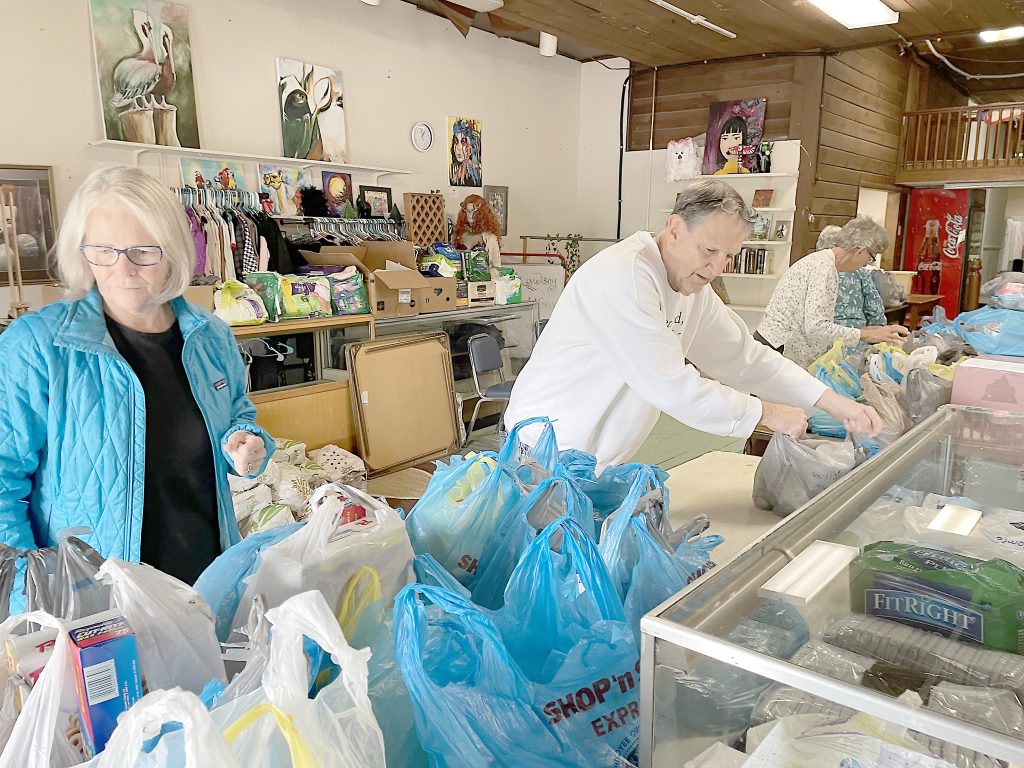 The high demand for food assistance in the Davis, Thomas, and Canaan Valley areas is even more challenging for Blackwater Ministerial Association Food Pantry volunteers this winter as the group prepares to move to a temporary location.
Starting Jan. 1, the food pantry will relocate to St. John's Lutheran Church (The Big Green Church), the corner of 3rd Street and Blackwater Avenue in Davis. The group will begin moving the non-perishable and perishable food, supplies, and equipment after its regular Wednesday, Dec. 7, food distribution. 
Veronica Staron, director of the Blackwater Ministerial Association Food Pantry, said the new space is smaller than desired. Still, it will allow the organization to continue its mission of providing food assistance to individuals and families in the area.
"It is a blessing for the food pantry to be back at St. John's Lutheran Church, even on a temporary basis," Staron said. "We are still searching for a larger space, 1,400 to 1,500 square feet, with hot and cold running water, a cement floor, and a toilet. Additionally, most of our volunteers are older, and having a single-story building with parking nearby is vital in the search."
"If anyone knows of a space in the Davis, Thomas, and Canaan Valley area, please give me a call at 304-621-4389," she added.
Staron said that higher food prices and rising inflation are forcing more community residents to ask for help putting food on the table. The Blackwater Ministerial Association Food Pantry served more than 90 households in October, an increase of 10 percent over what the organization helped in September.
"We have seen a steady increase in the number of people needing and asking for food assistance each month," Staron said. "The food pantry relies on grants and donations to keep up with the rising demand in the community, especially during the holidays and winter. Our generous donors allow us to serve each individual or family in need, plus provide a special Christmas meal."
Donations to the food pantry in Davis can be made out to Blackwater Ministerial Association and mailed to Treasurer Cathy Thomas, P.O. Box 58, Davis, WV 26260. 
The Blackwater Ministerial Association Food Pantry gets its food in multiple ways, including buying it themselves, Mountaineer Food Bank, and collections from individuals, groups, and churches. The volunteers plan and source the items for the distributions six months to a year ahead of time.
"We like to plan by counting and tracking our inventory carefully so we know what we can give out each month to individuals and families," Staron said. "We buy as much as we can locally from Shop'n Save or other area grocers and get our fresh fruits and vegetables from local farmers."
The food pantry rotates the monthly staples and non-food items a family receives. One month a family may receive paper towels, and the following month they may receive toilet paper or toothpaste.
"Each month, we try and give each family some kind of meat, whether it be chicken, beef, or pork," Staron said. "We also try and give out a little bag of goodies if there are children in the household."
The food pantry relies heavily on volunteers for its monthly food distribution day, the first Wednesday of each month starting at 1 p.m. The volunteers prepare and fill the bags for distribution on the first Tuesday of the month from 9 to 10:30 a.m.
 "We always need volunteers to help and welcome anyone who wants to donate time," Staron said. "If it weren't for the volunteers and the people in the community donating, we wouldn't be able to serve families in our area.'