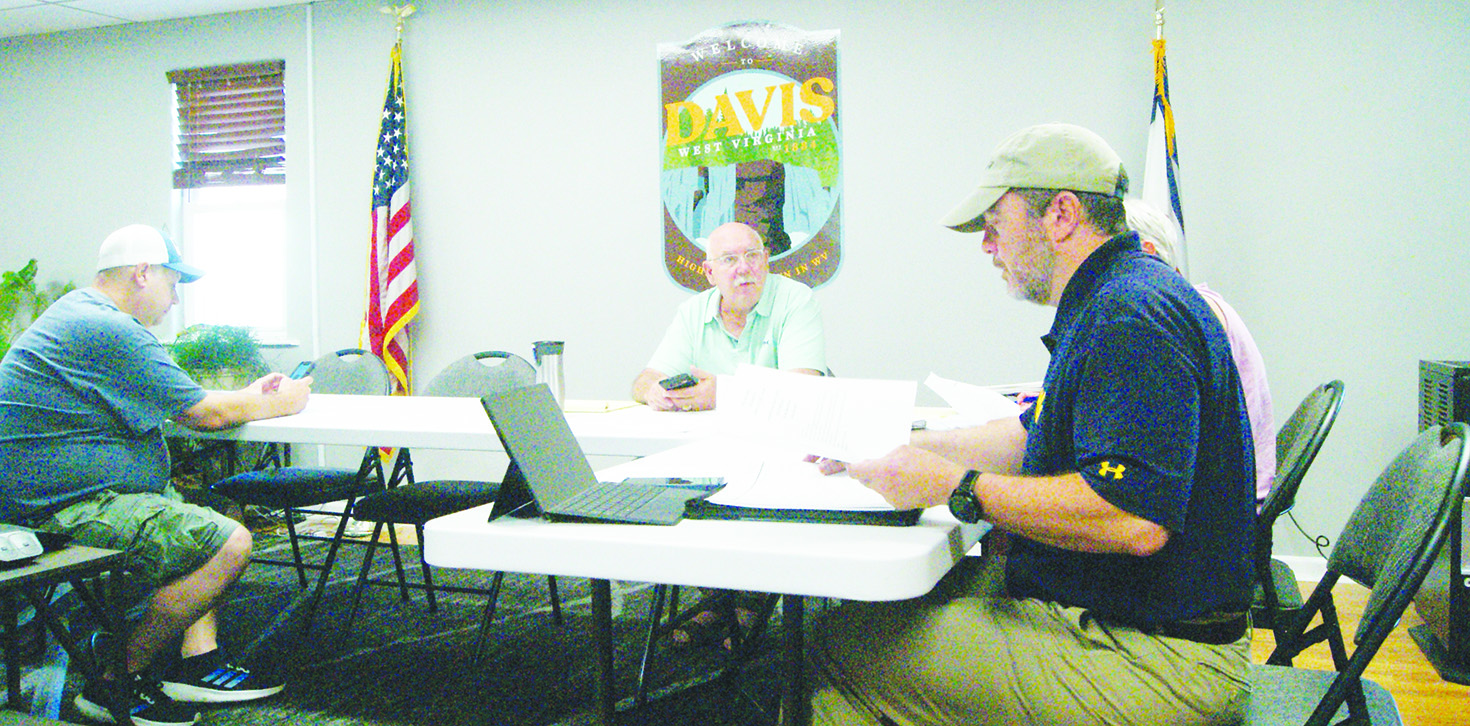 By: Lydia Crawley
The Parsons Advocate
The Blackwater Public Service District met with JM Marshall of Region VII and Tucker County Commissioners Fred Davis and Mike Rosenau to discuss plans for construction of the newly established district's sewage treatment facility.  Included on the board are Davis Mayor Al Tomson and Thomas Mayor Jody Flanagan along with retired engineer Judy Cronauer.
Tomson informed the members that he has been working with Kathy Emery, Director of WV DEP.   "There is a meeting," Tomson said.  "I went ahead and worked with Kathy Emery of the DEP.  She's in charge of sewer and water from the state DEP and its a chance for us to go down there and meet, basically, the people that we're going to be working with from the DEP.  They're going to give us some advice and guidance and things like that."
Tomson suggested that the group carpool to the meeting and that it was an excellent opportunity for networking with Emery and her team.   "I know I'm going to drive down and I'm willing to shuttle and chauffeur anyone else that wants to go or you can go by yourself…I just wanted to make you aware of the fact that, that meeting is probably going to be really helpful for us to build relationships."
The District also discussed how they would evaluate Expressions of Interest from engineering firms for the project.  Marshall supplied the district with examples of forms he has used in the past to evaluate the EOI.  "That was the one we used for the interview part," Marshall said.  "So, this is what I found in my files that we used to score the proposals that they send in.  Obviously, you can use that, you can modify it, you can do whatever you want with it.  That's up to you guys.  What the main thing is, what you're trying to do at this point, after those come in is to look over all the proposals and narrow it down to at least three to interview."
Tomson said the firm's ability to raise funds will be key to the project going forward.  "One of the things I look at also, besides the things that Jim has on his checklist, I look at their knowledge and their track record for acquiring funding.  I think that is really going to be key in this project because of the estimated cost, which I think at last discussions were 50 to 60 million dollars and that is significant money so we need an engineering firm that's going to be really proficient with helping us secure funding, whether its from the federal government, the state, or other agencies." 
Future funding needs and concerns were also addressed at the meeting.  "Something else," Marshall said.  "I know at this point, the PSD has a bank account of zero money, right.  So, and some of the firms are coming to you guys wanting to get, looking at their project and wanting to do a pre funding assistance or design loan.  But the problem with doing that is you have to come up with half the money.  
Rather than get a good grant or full grant money for it…You're going to have to get a loan at some point.  You're going to end up with some kind of a loan, but you need to minimize it, especially right off."
Tomson said the District board solicited packets of interest from engineering firms for the project and the members would be scoring and evaluating each submission.  "We've solicited from engineering firms their qualifications and their interest in this particular project.  And when they send in their qualifications, we will be evaluating them and scoring them so its more of an objective, quantifiable review of those packets and from that, we'll develop a priority list and we'll select the top 'X' number of companies to come in for interviews."
The board also discussed what specific qualifications and experience would be necessarily for this project.  Among those discussed were the need to handle leachate from the landfill and metals such as copper and iron that are unique problems for the area.  "I think that things we know are going to be issues, we see if they have any relevant experience," Tomson said.  "We know, for example, with the landfill leachate, therefore high ammonia, is problematic and we have to have a plant that is able to deal with that."
"And the copper?" Cronauer said, "is that just something that Thomas has?   There's an issue with copper."
"We have an issue with it.  With the summertime we have an issue with iron, too," Flanagan said.  "Iron and ammonia." 
Cronauer said she felt that a firm's ability to interact positively with the public will also be needed.  "Another thing would just be interaction with the public," Cronauer said.  "For siting, I know Thomas is a possibility, but also down further in Douglas is another.  Just that sensitivity to the public.   Doing presentations to the public and things like that." 
"People need to know what's happening and get answers to their questions and their concerns need to be addressed," Tomson said.
Members of the Blackwater Public Service District were appointed by the Tucker County Commission earlier this year.  The PSD will service the boundaries of Fairfax and Davis Tax Districts and Blackwater Falls State Park, according to legal notices posted at the time of the district's founding.
The next meeting of the Blackwater Public Service District will be held Tuesday, August 29th at 2 p.m. at the Davis Town Hall in Davis.