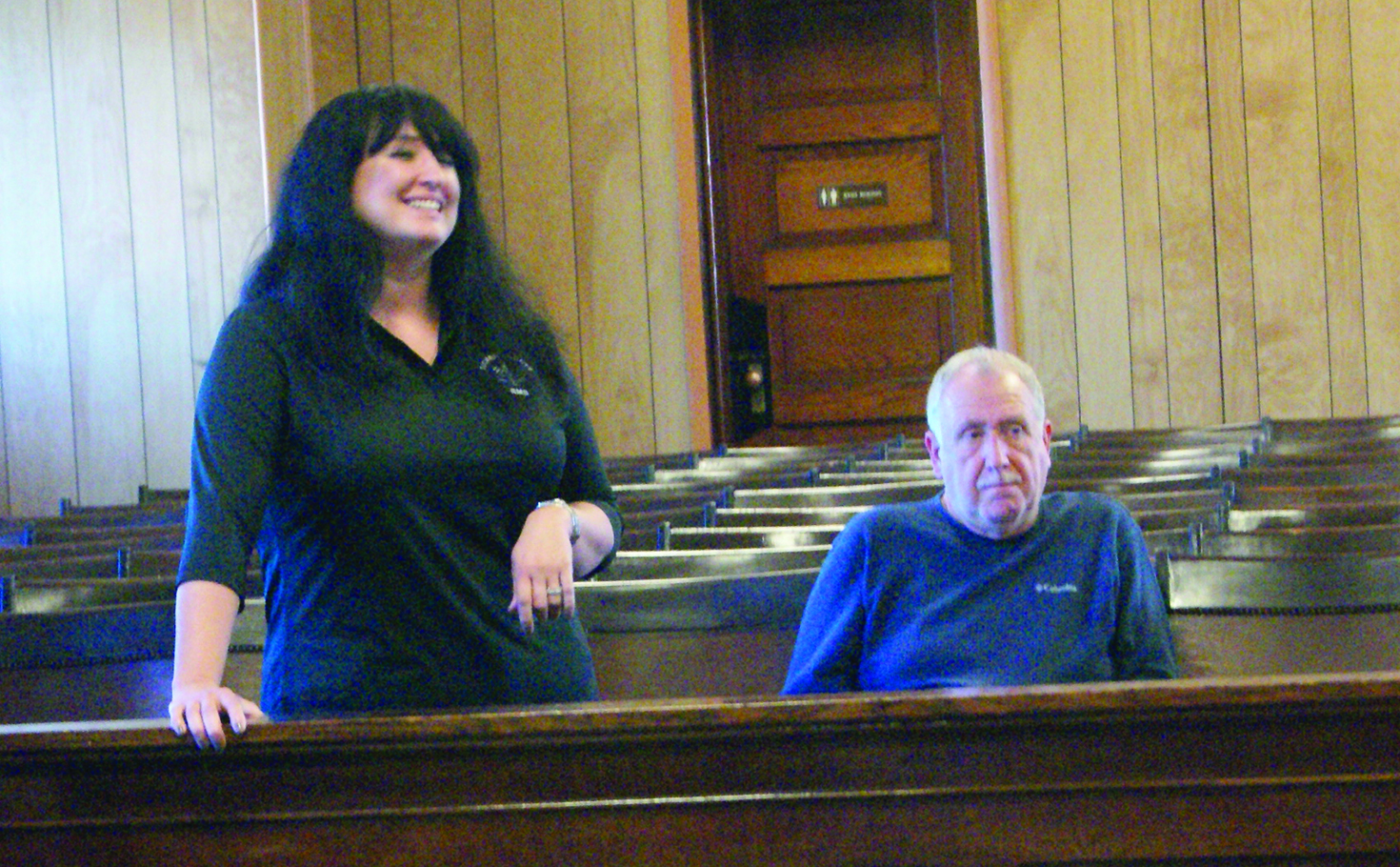 By: Lydia Crawley
The Parsons Advocate
The Tucker County Commission allocated $26,384.54 in ARPA fund money to purchase two Lucas Assist Devices for Tucker County EMS.  The new equipment will help Tucker County ambulance crews with CPR efforts.  EMS Director Amanda Simmons was in attendance when the purchase was approved by the Commission.
Simmons thanked the Commission for the devices.  "I want to thank you for reaching out because this is something a lot of people would not even think about," Simmons said.  "You know, being on the ambulance people think, 'I've seen 911 shows.  You do the compressions.'  But what they don't realize is an extended period of time, which you all well know, we're real far away from a hospital, it tires very quickly that individual and you can only fit so many people into an ambulance, but I can fit a Lucas in any day and continue on."
According to Simmons, EMS crews relied on other agencies or individuals to assist with CPR efforts.  "So, what we have had in the past, is manual," Simmons said.  "We have had Fire Department come out or other agencies around, even CPR led individuals.  Whenever we have a CPR in progress, since someone has had a cardiac related issue, we're in there working on the patient."
Tucker County EMS Training Officer Joe Strait said the key to CPR is continuous compressions.  "One of the key things in CPR," Strait said, "is continuous compressions.  With a Lucas you can have continuous compressions without somebody getting tired."
According to Simmons, fatigue during CPR compressions is common.  "Whenever we are doing compressions, if there are only two people that are on the ambulance and you're clear out in Leadmine or wherever and you're waiting on the Fire truck to get there," Simmons said, "what occurs is, through the  CPR process and you're doing the compressions, you're rotating, but occurs is the CPR and the compressions start to diminish because  you as an individual get tired."
Simmons said that crews only had one Auto Pulse machine.  "In the past we had one what we call an Auto Pulse," Simmons said.  "And it was a band that went around the individual and it would do compressions for us, but its only on one of the trucks."
Simmons also said that if a call for CPR came in, crews hoped they had the unit with the Auto Pulse machine.  "So if you got that call for CPR in progress or man down, you prayed you were on that truck that had that if it was way out," Simmons said.  "Because if not, you were going to be hurting.  I've done compressions for over an hour and a half before and it's not good compressions by the time you get done."
Simmons explained to the Commissioners that the Lucas machine provided perfect compressions.  "We were asked the question a while back, 'Well, what is a Lucas,'" Simmons said.  "It's the same type of device, only it's like a halo that goes over the individual and in the middle there is a little suction cup that comes down and actually goes right in the middle of their chest and it does active, perfect compressions every time.  Perfect depth, everything."
According to Simmons, the accuracy of the Lucas devices comes from its ability to measure the depth it needs to compress.  "It measures," Simmons said.  "It knows immediately what depth it needs to go to and how far down."
With the addition of the Lucas units, crews will be able to focus more on other vital life saving measures during CPR calls, according to Simmons.  "It does the compressions for us so we can work on airway," Simmons said.  "Go ahead and start putting in medication.  Start doing what we need to do and we can even actually load them in the ambulance and start heading towards those brighter lights or a medic or whatever else we need with this device."
Simmons said a representative from Stryker demonstrated the machine recently and her crews were impressed.  "Chris Walker came in and he demonstrated to us the Lucas here a couple of weeks ago," Simmons said.  "And the crew has just absolutely loved it."
According to Simmons, the new Lucas units will be far lighter than the old Auto Pulse.  "It's so much lighter than the Auto Pulse," Simmons said.  "And whenever you put it on your back, you have to be a rather strong individual to be able to go and move it."
The new units will be easily moved by any of her crews, according to Simmons.  "With the Lucas, it's in a backpack," Simmons said.  "And it unfolds into what size you need it to be and you can put it on your back and it doesn't matter if you're a 125 pounds or if you're 225, you can lug it wherever you need to go."
Simmons also said that the new units will be beneficial during Search and Rescue extraction efforts.  "So even on Search and Rescue, if we have someone back in the woods," Simmons said, "we can take it back in, strap it onto them and it actually has a plate behind them and the halo over them.  It goes on them and their arms are connected and we can put them in a Stokes Basket and keep on going and the compressions will continue."
Simmons said new statistics have shown that accurate compressions are more important that rescue breaths if done properly.  "And according to statistics, if you actually have an open airway, you can just do compressions and not give the breaths every 30," Simmons said.  "So that, we can continue on, we can walk them out of the woods.  We don't have to worry about, 'Ok, do we have to stop, give some breaths.'  No.  They have a more likelihood of making it out."
Tucker County Commissioner Mike Rosenau said that the Canaan Fire Department now has a Lucas unit.  "Someone brought up to me that they have Lucas, a Lucas machine, in Canaan Valley now," Rosenau said.  "Their Fire Company decided to invest in one because they are so good."
According to Rosenau, the Canaan Valley unit caused him to contact Simmons about procuring a Lucas for the county at large.  "So, I thought if they're so good, why can't we have them," Rosenau said.  "It may save a life throughout the whole county.  So, I contacted Mandy (Simmons)."
Rosenau said that while to state or federal agencies the amount of the purchases wouldn't seem like much, it was a lot to Tucker County.  "We're doing the best we can in our little county to support our services for EMS," Rosenau said.  "I hope on a national level, that you can see the effort that we are making.  When we have to go look for $26,000  on the budget for the country, it's not a lot.  Not even a drop in a minute thimble.  On the state level, its nothing.  $26,000.  But when we start looking at $26,000 out of our local budget, that takes a lot of work with us and we have to prioritize where it's going to go." 
The saving of lives in Tucker County is a top priority, according to Rosenau.  "Well saving a life in our county, is top priority for this Commission," Rosenau said. 
Rosenau said he was impressed with the Lucas system's ability to be transported with the patient.  "The thing I liked about Lucas, too,"  Rosenau said.  "They can activate it on your chest and transport.  It goes with that patient to the hospital.  No matter if they're on Trooper 5.  They go on the helicopter to Morgantown, that machine is so trusted throughout the industry, that can go with them right to Morgantown hospital."
Tucker County Commissioner Fred Davis said he was approached about the need for a CPR assist device when he first became a Commissioner.  "One of the first things five years ago when I become a Commissioner," Davis said, "like the first month, someone asked me to try to come up with funding for one of them machines to do compressions because we're a rural area…We talked about it some so I'm very proud today for this here."
Simmons said the usual cost of a unit is $17,000.  "A Lucas normally costs $17,000 on its own, by itself," Simmons said.  "That's not any bells and whistles.  That's $17,000 by itself." 
Simmons said she was able to get a better deal on the units.  "I said, 'I don't know, Chris, if we can do it.'  He said, 'Well, let me see what we can do.'  And we happened to have an old monitor there that we don't use, its archaic and we have the Auto Pulse and he said, 'What if for however much, I can get you two?'  And I said, 'Well, I'll try.'"
According to Simmons, she was able to receive a generous trade in for the old equipment.  "We got 9,000 trade in," Simmons said.  "For our two devices."
Rosenau said that was money saved to county.  "That's $9,000 that we didn't have to put out," Rosenau said.  
Strait said that he plans to continue offering Community CPR classes because CPR trained individuals will always be needed.  "One thing I've been doing over the past year or so is trying to do community CPR classes," Strait said. "We will get the Lucas and have that capability, but still, if you have somebody way out on Cheat Valley Highway that we have to go to, if that family member know how to do it, they can at least get something going until we get on scene."
According to Strait, the CPR classes will resume in the Spring.  "In the past, the Commission has supported those classes and we will start them back up in the spring," Strait said.
Simmons thanked the Commission, community and other agencies for their continued support.  "I so do appreciate all the support," Simmons said.  "You have no clue.  It's been amazing.  So, I've been here almost a year now, I'm ten months in and I said the support from the community, from the other agencies, from the County Commission has just been overwhelming.  I do appreciate everything you all have done."
Davis said that training and equipment are key to saving lives in rural areas like Tucker County.  "Being a rural area and not having a hospital five minutes away," Davis said, "the best equipment, the best training we have, it saves people's lives."
Rosenau thanked the federal government for the ARPA funding that made the purchase of not only the CPR devices possible, but many other projects.  "I want to thank, on the federal level, our ARP funding that came from the Federal Government," Rosenau said.  "That we have been allowed to help our community in several ways from water to sewage to whatever.  To a $72,000 cot that we got.  So now we have a little, tiny bit left and we'll scrape together enough that we could put $26,384.54 towards something else that will help the community."
The next meeting of the Tucker County Commission will be held October 25th at 4 p.m. at the Tucker County Courthouse Old Courtroom.