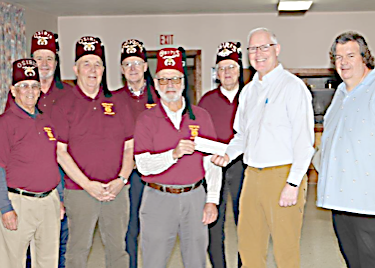 ELKINS – Tygart Valley Shrine Club and the Tucker Community Foundation are excited to announce the creation of a new Endowed Fund, the Tygart Valley Shrine Club Fund.  Shriners Children's is one of the largest pediatric specialty health care systems in the world.  Shriners Philanthropy was established in 1922 and continues to provide pediatric care for children around the world.  The families of children receiving medical treatment at a Shriners Hospital never receive a bill for their medical care.
The Tygart Valley Shrine Club locally serves Randolph, Tucker and Barbour counties.  Fundraising events are held throughout the year, with the main event being "The Onion Sale".  During 2022, Tygart Valley Shrine Club Members sold 1500 bags of onions.  Shriners are most widely known for their big red hats or "Fez" as they are called, their tiny cars that they take through local parades and events, as well as the Osiris Klowns, where they dress up as clowns for local events and fundraisers.  Tygart Valley Shrine Club currently has 50 active members.  These members are instrumental in providing the Shriners Children's Transport to Shriners Hospitals in Kentucky and Pennsylvania. Transportation and travel expenses are provided by Tygart Valley Shrine Club.
Tucker Community Foundation manages more than 140 endowed funds. If you'd like to make a tax-deductible donation to our local Shriners Fund, send a check payable to the Tucker Community Foundation, PO Box 491, Parsons, WV 26287.  List Shriners in the memo.  To set-up an endowed fund or to learn more about the Tucker Community Foundation, call 304-478-2930 or visit their website www.tuckerfoundation.net.