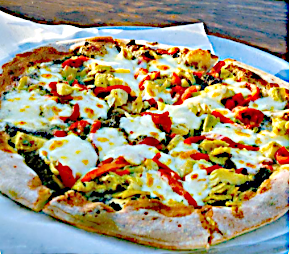 By: Jennifer Britt
The Parsons Advocate
The Mountain State Brewing Co., in Thomas, now offers more than just specialty adult drinks. In an area connected with the brewery the company has opened a kitchen that serves not only pizza but salads, sandwiches, and hummus with pita bread. There is an option to order and pay online for pickup or choose to dine in a cozy seating area adjacent to the pub.
This is a new location for the company with two other locations in Bridgeport and Morgantown. The Thomas location is operated by Brian Arnette and Randy Davis. Debbie Davis manages the location with the help of McKenzie Zirk. According to R. Davis the kitchen was developed to satisfy the need expressed by many to have a place to eat. R. Davis said, "Willie (Willie Layman, Owner of Mountain State Brewery, Co.) said if Debbie will run it he would build it and she agreed."
The menu offers a wide variety of specialty pizzas ranging from a Meatlover ($15) to a Veggie Supreme ($15). R. Davis stated the most popular pizza was the Fire on the Mountain ($15). This pizza hosts a red sauce base and topped with red onions, banana peppers, Italian sausage, pepperoni, smoke gouda, mozzarella cheese, and finished with a drizzle of smokey and spicy chipotle sauce. Of course, there is always the option to build your own starting at $10 and each topping is an additional charge.
The sauces that are available are the classic red sauce, alfredo, Franks (hot sauce), BBQ, and oil with garlic and a splash of red sauce. Cheese choices include mozzarella, fresh mozzarella, cheddar jack, blue cheese crumbles, and smoked gouda. Toppings include your everyday variety and also cranberries, A1 or chipotle drizzle, prime rib, meatballs, and caramelized onions are included.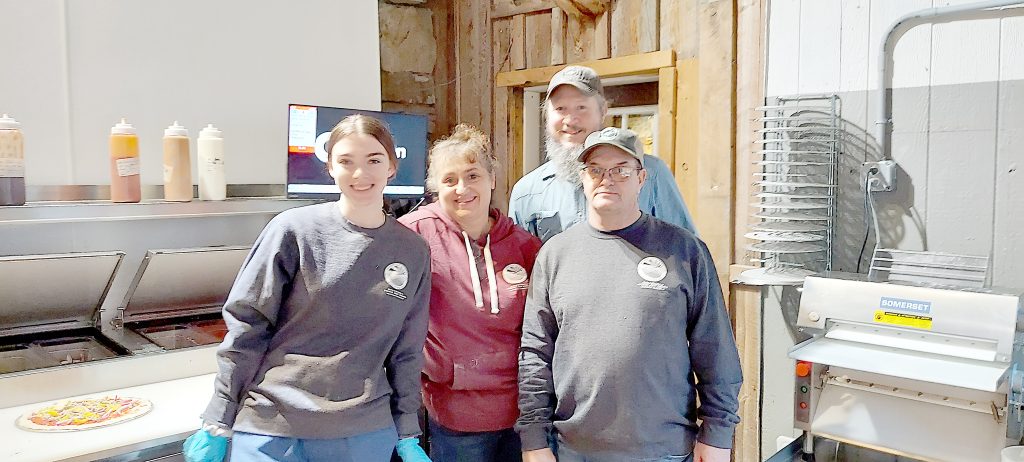 All pizza dough is freshly made from unbleached and unbromated flour. A 10 inch gluten free is also available. D. Davis stated that all sauces and salad dressings are made fresh. Even the hummus that is served with pita bread is made fresh. 
Pepperoni rolls and sandwichs are also available. Sandwiches include two that are made from shaved prime called. One is called the Lost Cow with caramelized onions, smoked gouda, and a spicy chipotle sauce served on a toasted bun. The other is the Prime Rib Hoagie with mozzarella cheese, lettuce, tomato, and mayo served on a toasted bun. The classic Meatball Hoagie is also available.
Any pizza topping can be added to a salad. On the menu there is a house salad and a Blue Ridge Salad with dried cranberries, walnuts, and blue cheese crumbles. 
Hours of operation are Monday, and Thursday through Sunday 5 p.m. to 9 p.m. They are closed on Tuesday and Wednesday. R. Davis stated that summer will bring new hours of being open from noon to 9 p.m. They can be reached by calling 304-463-4500 or on their website at mountainstatebrewing.com. The new location in Thomas is located at 1 Nelson Rd, Thomas.