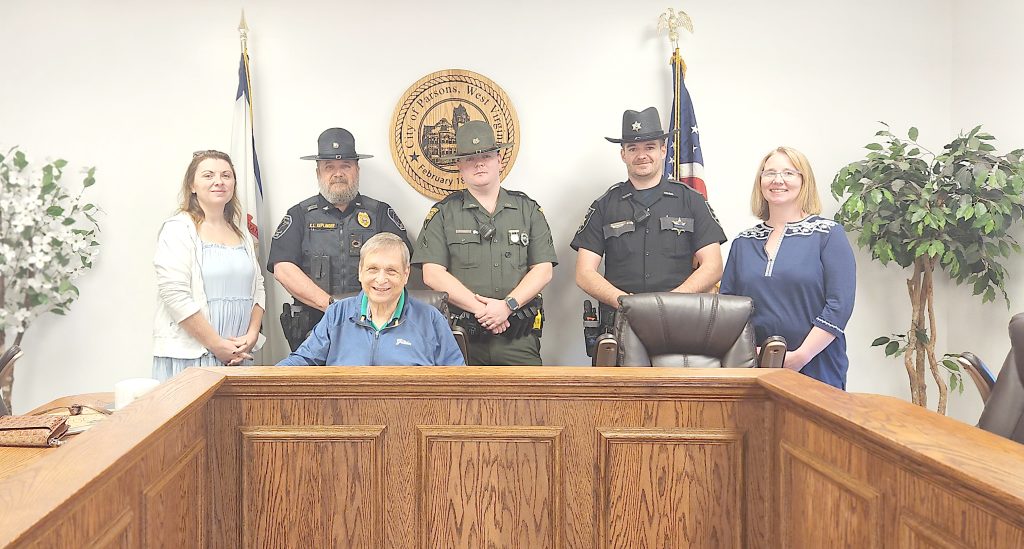 Left to Right: Tucker Co Advocate for Centers Against Violence Kim Shaffer; City Chief of Police K. Keplinger; Sergeant Pyles; Officer C. Summerfield; Christine Ward, Children's Advocacy Center Board Member and in the front Acting Mayor Bruce A. Kolsun
April is Child Abuse and Sexual Assault Awareness Month. Child Abuse prevention is a community responsibility and finding solutions. Parsons has dedicated individuals and organizations who work daily to prevent the problem of child abuse and neglect and to help parents obtain the support they need to raise children in a safe, nurturing environment.
Sexual Assault affects individuals of any gender, race, culture, or socio-economic background and in addition to the immediate physical and emotional costs, sexual assault may also have associated consequence of post-traumatic stress disorder, substance abuse, depression, homelessness, eating disorder and suicide and sexual assault is devastating not only to the survivor, but also for the family and friends of the victim/survivor and since no one person, organization, agency, or community can eliminate sexual assault on their own we must work together to educate, prevent and support victims/survivors and their families.  
Tucker Co has a SART Team (Sexual Assault Response Team) to follow the SAFE plan and to understand our roles; for all first responders in Tucker Co which would be Parsons Police, Tucker Co Sheriff's Department, State Police – Parsons Detachment, St. George Medical Center, 911 Dispatch, Tucker Co Schools, Randolph/Tucker CAC, Tucker Co EMS, the health department, the Centers Against Violence Advocate and Tucker Co Prosecuting Attorney's Office. The first responder's actions and attitudes may be critical to the way in which the victim copes with the trauma and to the length of time it may take to recover.
In June 2022 a new state law went into effect WV Senate Bill 616. The Bills aims to help victims of sexual abuse and assault to remain anonymous. This law prevents the release of records in cases involving sexual charges. It also does more than shield the victim from the public, it helps future cases to hopefully encourage victims to come forward.