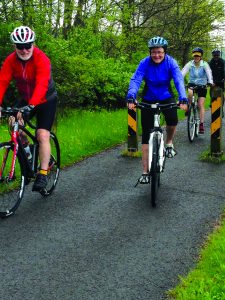 Area cyclists are invited to join the Highlands Trail Foundation for a bike ride on the Allegheny Highlands Trail (AHT) Saturday during the annual Ramps & Rail Festival. 
Guided by HTF volunteers, the AHT Ramps & Rail Ride is offered free of charge to participants. 
"Riding on the Allegheny Highlands Trail is a great way to experience local railroad history," said HTF President Karen Carper. "Bike riders can imagine the trains that traversed the countryside as they ride the historic route on the rail trail. It's a perfect companion to the festival."
All skill levels are welcome to join the fun ride on the paved trail from Elkins to Gilman, a total round-trip distance of less than eight miles. A longer ride to the Kerens trailhead is optional. The ride will depart from and return to the festival venue with plenty of time to spare for ramp tasting and other delights.
Participants must register in advance and sign a waiver at the Highlands Trail Foundation booth beginning at 9:30 a.m. A parent or guardian must sign for children under age 18, who must be accompanied by an adult on the ride. Helmets are required for all riders. 
To find the Highlands Trail Foundation booth, look for the Joey's Bike Shop pop up tent. 
Festival attendees are also invited to stop by the Highlands Trail Foundation booth for free maps and information on the Allegheny Highlands Trail. Trail t-shirts and other items will be available for sale with all proceeds to benefit the Highlands Trail Foundation. 
For more information about the ride, please email highlandstrailwv@gmail.com or message HTF via Facebook or highlandstrailwv.org. 
The Highlands Trail Foundation has worked since 1995 to create, support, and advance the Allegheny Highlands Trail system in the Potomac Highlands of West Virginia.