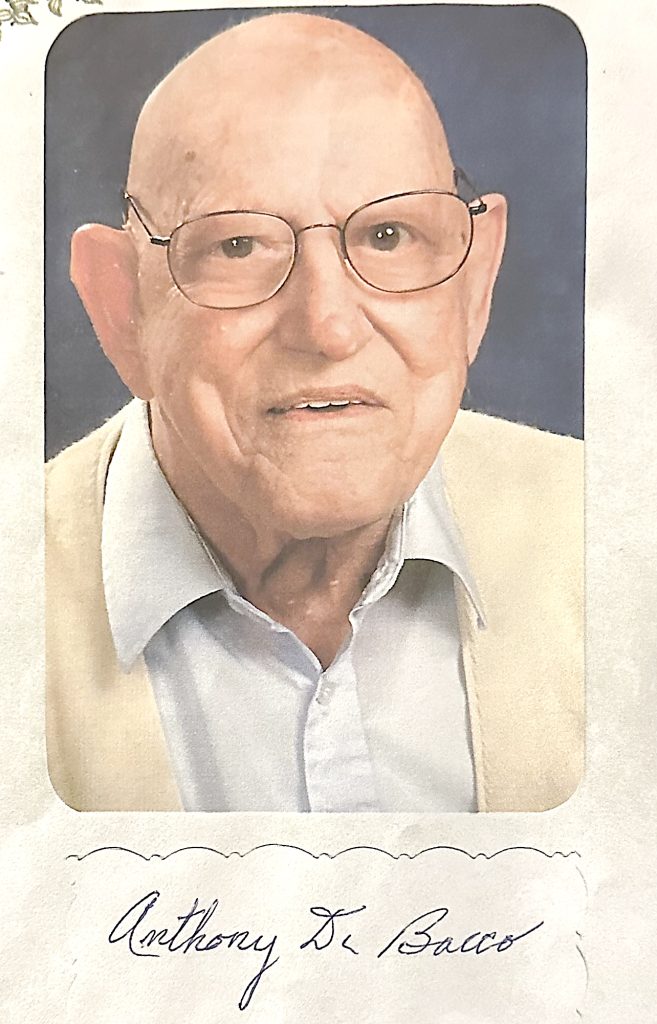 Anthony "Tony" Salvatore DiBacco, 100, of Thomas, WV, passed away peacefully at home, on Tuesday, April 4, 2023. Born on October 25, 1922, in Davis, WV, he was the son of the late Salvatore and Candida DiBacco.
After graduating high school, Tony made four attempts to join the United States Army during WWII, where he was denied due to having polio as a child. He then volunteered as a civilian air raid warden for the City of Thomas for the duration of the war. Tony, along with all of his family was musically inclined; he loved the 40's swing, big bands, and especially polka music. He also enjoyed going to bingo, playing cards, bowling, traveling and was an avid football, basketball, and baseball player. At a very young age, Tony lost all of his hair, it seemed to draw attention to him but he took advantage of the situation and made new friends. Consequently, this contributed to his outgoing, friendly personality; no matter where he went, he was well-known. Tony was a lifelong member of the Knights of Columbus in Thomas and Keyser, WV along with St. Thomas Aquinas Catholic Church. Above all, he loved spending time with his family. 
He is survived by four children, Steve DiBacco of Huber Heights, OH, David DiBacco and wife Peggy of Lapeer, MI, Matthew DiBacco and wife Joni of Franklin, WV, and Rita Johnson and husband John of Thomas, WV; eight grandchildren, Stefanie Ailey and husband Steven, Andria DiBacco, Jessica Revord and husband Brett, Shannon DiBacco and wife Erin, Jacob DiBacco and wife Heidi, Chris Johnson and wife Christy, Nicole Shaffer and husband Chris, and Josh DiBacco and wife Heather; and twelve great grandchildren.
In addition to his parents, he was preceded in death by his wife, Diana L. (Persutti) DiBacco, on January 29, 2003; two children, Andrew DiBacco and Mary Christine DiBacco; a great grandchild, BJ Ailey; seven siblings, Mary Greco, Adaline LaCamera, Flemmy Massi, Carmen DiBacco, Susie DiBacco, Paige Armentrout, and Betty Petrella.
The submission of any stories, memories, photos, or videos of Tony would also be greatly appreciated and treasured by his family.
Friends were received on Monday, April 10, 2023, from 4 to 7 p.m., with rosary held at 6:30 p.m., at the Hinkle-Fenner Funeral Home, 567 Thomas Avenue, Davis. A Mass of Christian Burial was held at 11 a.m. on Tuesday, April 11, 2023, in St. Thomas Aquinas Catholic Church, 3rd & Brown Street, Thomas. Following the services, Mr. DiBacco's request for cremation was honored. Interment will be in the Mt. Calvary Cemetery at a later date. 
The Hinkle-Fenner Funeral Home is honored to be serving the DiBacco family at this time.