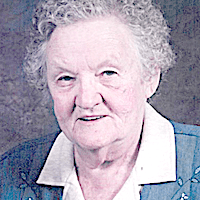 Evelyn Marie Hott, 91, of Romney, WV passed away on Wednesday, February 19, 2020 at Hampshire Health Care Center.
Born on July 1, 1928 in St. George, WV, she was the daughter of the late Ernest Jeffries and Lena Hershman Jeffries.
Evelyn was a homemaker, loving mother and grandmother. She attended the Kirby Assembly of God Church. She had worked at Glen Echo Park, Log Cabin, National Fruit, Kingsford Charcoal, apple and peach orchards and strawberry fields. She enjoyed reading, working puzzles, playing bingo, going to casinos, gardening and push mowing the yard. Most of all, she loved spending time with family.
She loved large family gatherings, going to the beach, camping and going on cruises.
Along with her parents, she was preceded in death by her husbands, Edmund Owens, Dallas Hershman, and Dailey J. Hott. She was also preceded by three brothers, seven sisters, one granddaughter, two grandsons, and one great-granddaughter.
Surviving are ten children, Judy (Roy) Nickelson, Priscilla (Roger) Foltz, C. James Owens, Dallas Hershman, all of Winchester, VA, Lena Pownall, Patsy Constantino, both of Romney, Della (Linden) Orndorff , Gladys Miller, Robin Trenum, all of Augusta, Dottie Nestor of Parsons, WV, two step-sons, twenty-four grandchildren, forty-seven great-grandchildren, nineteen great-great grandchildren and several step-grandchildren.
Funeral services were held on Saturday, February 22, 2020 at 10 a.m.. in McKee Funeral Home Chapel, Augusta, with Pastor Max Cochran officiating. Interment followed in Macedonia Cemetery, St. George, WV.
The family received friends on Friday evening from 6-8 p.m. at the funeral home.
All arrangements were handled by McKee Funeral Home, Augusta, WV.