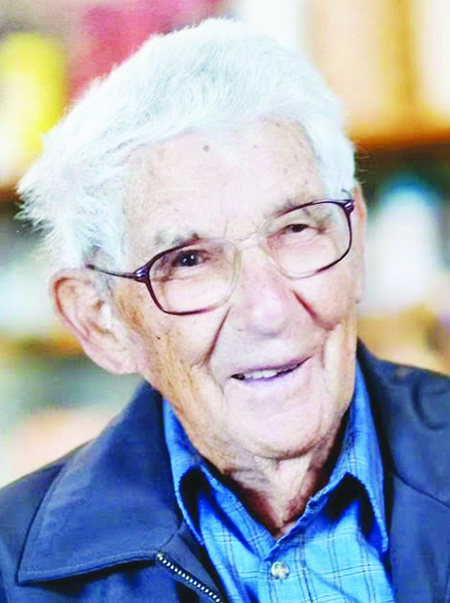 Ira S. Miller, 106, of Dryfork, WV passed away on October 29, 2023, surrounded by family. Ira, fondly known as Grandpa Miller, was born on January 27, 1917, in Yoder, KS. First and foremost, Ira loved his Lord and Savior, Jesus Christ. He allowed the Lord to use him by serving others. He was a man of faith and a prayer warrior who has left behind an amazing legacy. How can we condense 106 years into a few paragraphs?
Ira was one of twelve children who came from humble beginnings. Ira only had an 8th grade education because of his need to work on the family farm, where his great work ethic was developed. His skill-sets included farming, carpentry, trucking, and masonry, but he was best known for being a beloved bus driver. During World War II he helped in the construction of Skyline Drive in Virginia and was later an orderly at Greystone Hospital in New Jersey, where he met and cared for Norman Rockwell. 
Ira's hobbies included card games, weaving baskets, diamond art, and packing shoeboxes for Operation Christmas Child, a ministry dear to his heart. Since turning 100, Ira has packed 1,986 OCC shoeboxes, additionally, he went snowmobiling, ziplining, and road in a hot air balloon. He loved spending time with family, especially his grandchildren and great-grandchildren. Sunday afternoon sugar popcorn was a sweet tradition that he began with his children and continued with his grandchildren. Of his most beloved traits were his humor and quick wit. When someone would ask him how he feels, he would respond "with my fingers" and when questioned to what his longevity is attributed, he would answer "just keep breathing" or how did you sleep last night, he would respond "with my eyes closed." When asked how old he was, he would say "old enough to vote."
In December of 1956, Ira and his wife, Mary Olive, along with their three oldest children, Philip, Mary Lou, and Jonathan, and moved from Delaware to Dryfork, WV to help with a church plant. They only had $75 in their pockets. Ira was preceded in death by his eleven siblings; his first wife, Ellen (Swartzendruber); second wife, Mary Olive (Yoder); sons, Philip and Jonathan; as well as sons-in-law, Eric Osborne and Danny Edmands. 
He is survived by his children, Mary Lou Edmands of Hagerstown, MD, Debbie (David) Welch of Oakland, MD, David (Susan) Miller of Dryfork, WV, Keren (Rodney Palmer) Miller of Accident, MD, and Naomi (Sheldon) Martin of Lancaster, PA; daughters-in-law, Rose Miller of LaGrange, IN, and Michele Miller of Sarasota, FL; seventeen grandchildren; and seventeen great-grandchildren.
Friends were received on Friday, November 3, 2023, from 1 to 3 and 5 to 7 p.m. at the Dryfork Assembly of God Church in Dryfork, WV.  A funeral service was held on Saturday November 4, 2023, at 11 a.m. at the church with Pastor John Moyers and Pastor John Callaway officiating. Interment was privately held in the Red Creek Bethel Cemetery.  Friends were welcome to join the family immediately following the service at the Canaan Valley Fire Hall, where a continued celebration of Ira's life was held with food and fellowship. 
In lieu of flowers, donations may be made to Christian Aid Ministries, Operation Christmas Child (Samaritans Purse), or you can pack a shoebox in Ira's memory. 
The Hinkle-Fenner Funeral Home is honored to be serving the Miller family at this time.