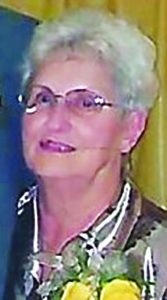 Jacqueline "Jackie" Margaret Evick Stevens, age 85 years, a resident of the Holly Meadows Community, Parsons, WV departed this life Thursday afternoon, September 14, 2023, at her home surrounded by her loving family and under the care of WV Caring.
She was born Thursday, February 3, 1938, at Parsons, WV, a daughter of the late William Ray and Margaret Marie Filler Evick Harlow.  On November 4, 1957, at Oakland, MD., she was married to George Lawrence "Darney" Stevens, who survives.  Also surviving are one son, Brian Stevens and wife Debbie, one daughter, Dawn Harper, daughter in law, Kathleen "Kathy" Stevens, one brother, William Ray Evick, Jr. and wife Linda, all of Parsons; and four grandchildren, William "Brad" Stevens, Leslie "Dee" Stevens, Emilee Harper and Kelsey Jordan; and two great grandchildren, Wesley and Liam.
Preceding her in death is one son, William George "Bill" Stevens. 
She was a graduate from Parsons High School with the class of 1956.  After school, she worked for the F.B.I. in Washington, D.C.   She then returned to Parsons, WV and worked for State Farm Insurance, Citizens National Bank and retired from Mountain Valley Bank in 2000.  She was a member of St. John's United Methodist Church in Parsons.  Jackie always had a smile and was a sweet lady, who loved her family very much and especially enjoyed her car rides with "Darney".   
The family received friends at the Lohr & Barb Funeral Home of Parsons on Monday from 4  to 7 p.m.   Final Rites were conducted at the funeral home on Tuesday, September 19, 2023, at 11 a.m.  The Reverend Neil Parsons officiated and interment followed at the Bethel Cemetery at Holly Meadows, WV.  The Lohr & Barb Funeral Home is in charge of the arrangements for Jacqueline "Jackie" Margaret Evick Stevens.  Condolences may be expressed to the family at www.lohrbarbfuneralhome.com