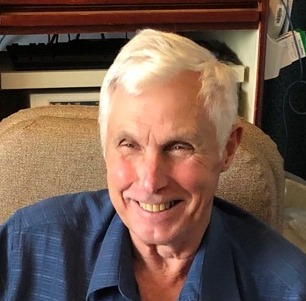 JERRY STURM, age 77 years, a resident of Jobs Run in Porterwood, W.Va., departed this life Monday afternoon, November 25, 2019, at the Davis Memorial Hospital in Elkins, W.Va.  He was in his usual health and death was unexpected.
He was born, a twin, on Wednesday, November 18, 1942, in the family farmhouse on Jobs Run in Porterwood, W.Va., a son of the late George Dewey Sturm and Edith Marie Phillips Sturm. On June 3, 1982, he was married to the former Barbara June Ware, who survives in Porterwood. They celebrated 37 years of marriage together, residing on the land on which he was born and loved dearly.
Also surviving are one son, Jerry Howard Sturm of Porterwood; one daughter, Elizabeth Ann Lancaster and husband Scott of Porterwood; two brothers, Kenneth G. Sturm and wife Sue Ellen of Canaan Valley, W.Va., (twin) Larry Sturm of Pedlar Mills, Va.; special cousin Faye Lynn Perry of Hampton, Tenn., and  brother in law Jim Teman of Bay City, MI; two grandchildren, Jacob Wilson Lancaster, and Hannah Marie Evans and husband John Logan, both of Porterwood;  one beloved great-granddaughter, Annabeth June Evans of Porterwood; mother in law, Faitha N. Flanagan of Thomas; and several beloved nieces, nephews, and cousins.
He was preceded in death by his parents; sisters, Betty Mexic and Mildred Teman; brothers, Jack L. Sturm, William R. Sturm, and Ira J. Sturm; sisters in law June Spicer Sturm, Chris Sturm, Mickie Sturm, Florence Sturm, and nieces Connie Green, Rhonda Lynn Sturm and Jessica Henderson.
He was a graduate of Parsons High School with the Class of 1960.  After graduation he married his first wife the late Paris Flanagan with whom his two children were born. The couple later divorced, but he remained friends with both she and late husband Leonard Don Wooddell. In his early years he worked at the Woolen mill in Parsons, and began working in building construction becoming a master tradesman. He later struck out on his own as Sturm Construction, building and remodeling many structures in Tucker County and surrounding areas, including serving as job superintendent on Canaan Valley Lodge in the 1970s. Eventually, he and wife Barbara decided to leave the construction field and he began a successful logging career, which became his passion. He loved to fish and spent many hours on the lake in his treasured boat with his family and friends. He was a member of Moore United Methodist Church, where served as both Board President and caretaker.
After retirement he devoted his life to caring for his family and the land of his birth. He remodeled the home in which he was born multiple times, the latest being a home for his granddaughter, her husband, and new baby girl. He built two homes for his children and completed a beautiful home for his wife. His love and devotion will never be forgotten by his family to whom his last words were directed, "Tell my family I love them!"
The family received friends at the Lohr & Barb Funeral Home of Parsons on Saturday from four to seven p.m.. On Sunday, December 1, 2019, Mr. Sturm, was moved to the First United Methodist Church of Parsons, where friends called from 12:30 until 1 p.m. the funeral hour. The Rev. William R. Brown officiated. Interment followed at the Sturm Family Cemetery on Jobs Run in Porterwood. Memorial donations may be made to Moore United Methodist Church, c/o Rev. William R. Brown, 101 First Street, Parsons, WV 26287. The Lohr & Barb Funeral Home was in charge of the arrangements for JERRY STURM. Condolences may be expressed to the family at; www.lohrbarbfuneralhome.com.