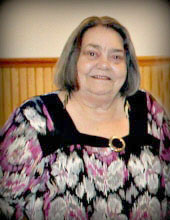 Rebecca Ann "Beck" Carr Helmick, age 67 years, a resident of the Mt. Zion Community, Parsons, WV departed this life Friday morning, December 20, 2019 at her home.  She had been in declining health although death was unexpected.
She was born Tuesday, June 24, 1952 at Mount Sterling, KY, a daughter of the late Troy Arthur and Mona May White Carr.  On June 8, 1969, she was married to Jerry Lee Helmick, who survives.  They had celebrated fifty years of marriage.
Also surviving are one son, The Rev. Jerry Lee Helmick, Jr. and wife Rogina of Elkins; one brother, Matthew Lane Carr of Hendricks; three grandchildren, Caleb Scott Helmick and wife Victoria, Joshua Lee Helmick and wife Jalyssa and Rachel LeeAnn Helmick; and one great grandchild, Sophia Grace Helmick, all of Elkins.
Preceding her in death are one son, Scott Lynn Helmick; one grandson, Stephen Todd Helmick; and one brother, Arthur Dewaine "Sonny" Carr.
She attended Hamrick Grade School and Parsons High School.  She worked as a cook at her Mothers restaurant called the Long Branch Café in Parsons.  She had worked for Canaan Realty as a housekeeper, was also a cook at the Blackwater Lodge and her most recent employment was working at Mineral Fabrication, working alongside her husband.
"Beck" loved spending time with her family especially her grandchildren.  She enjoyed being outside, taking long rides on the ATV with her husband. She enjoyed the peace and solitude of camping and spending time at their cabin.  "Beck" liked the times with her friends and family, telling stories and reminiscing.   She was a wonderful cook.
The family receivde friends at the Lohr & Barb Funeral Home of Parsons on Monday from 4   to 7 p.m.  Final Rites were conducted at the funeral home Tuesday, December 24, 2019 at   11 a.m.   The Rev.  Jerry Lee Helmick, Jr. officiatde and interment followed at the Mt. Zion Cemetery at Mt. Zion, WV.  The Lohr & Barb Funeral Home was in charge of the arrangements for Rebecca Ann "Beck" Carr Helmick.  Condolences may be expressed to the family at www.lohrbarbfuneralhome.com