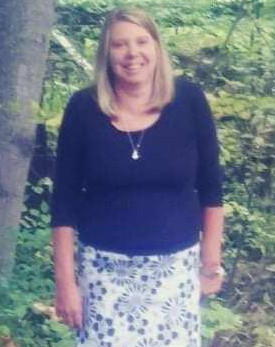 Theresa Marie White Molone, 52, a resident of Parsons, passed peacefully from this life, surrounded by loving family members, on Sunday, December 4, 2022, at WV Caring Hospice Inpatient Center in Elkins following a brief illness.
Theresa was born on Sunday, August 9, 1970, in Parsons, a daughter of Ronald Lee "Ronnie" White of Parsons and the late Mary "Jeannie" Dorn White.  On September 1, 1990, in Grandfield, OK, she was married to Steven "Steve" Leon Molone who preceded her in death on March 9, 2019.
Theresa was a graduate of West Potomac High School in Alexandria, VA.  After living in Grandfield, OK and Wichita, Falls, TX, Theresa, and her family moved to her hometown about twelve years ago.  Once her own family was grown, Theresa's love for children led her to provide babysitting services for several families in Parsons.  Most recently, prior to becoming ill, Theresa worked in the clubhouse at Holly Meadows Golf Course.
Her great pleasure was spending time with her family.  She especially enjoyed watching her sons compete on the baseball field as their Number One fan.  Theresa was a homemaker who was well known for her cooking skills (most notably her chicken fried steak). She also loved spending free time gardening and creating crafting projects.  Theresa cherished beach trips with her family to the Outer Banks of North Carolina where they created lifelong memories.
She will be greatly missed by her many family members and friends.  Left to cherish Theresa's memory along with her father are three sons, Aaron Molone and wife, Amanda, of Wichita Falls, TX, Allen Molone and fiancé, Keisha Davis, and Tyler Molone, all of Parsons, two grandchildren, Cooper and Avery Molone, two sisters, Missy Guy and husband, Dave, of Parsons and Elizabeth Delaney and husband, Corey, of Sarver, PA, three nephews, Tony, Ronny, and Nolan, and one niece, Curran, and several aunts, uncles, and cousins. She is also survived by her companion, Don Ritter.
Visitation will be held at Hostetler Funeral Home on Thursday from 5-7 p.m.  Funeral services will be held at the funeral home chapel on Friday, December 9, 2022, at 11 a.m.  Interment will follow in Parsons City Cemetery.  The family has requested contributions in Theresa's memory be made to WV Caring Hospice Center, P.O. Box 760, Arthurdale, WV 26520.  The Hostetler Funeral Home has been entrusted with the arrangements for Theresa Marie White Molone.  Send online condolences to the family at www.hostetlerfuneralhome.com.