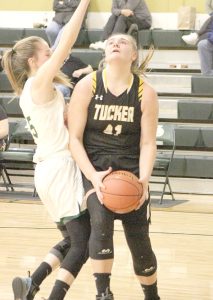 TuckerCountySports.Com
CLARKSBURG – The Tucker County Girls' team traveled to Notre Dame on Monday February 17th. The Lady Mt. Lions rallied back from a first quarter deficit to get the road victory 51-39.
The first quarter was back and forth as the host Lady Irish held a slim lead after one quarter 15-14. Tucker County responded in the second quarter as they outscored Notre Dame 15-13 to give the Lady Mt. Lions the lead at halftime 30-28.
The third was controlled by Tucker County 14-9 to up the Lady Mt. Lions lead to 44-37 after three quarters. The defense for Tucker County then stepped up in the fourth quarter as the Lady Mt. Lions held the Lady Irish to 2 points in the fourth to get the road victory by the final score of 51-39.
Terra Kuhn led the Lady Mt. Lions with 19 points,7 rebounds and London Hood added 17 points, 9 assists, 6 rebounds, 2 steals for Tucker County in the win. Kadie Colebank chipped in with 8 points, 16 rebounds, 5 bloxks for Tucker County.
HAMBLETON – The Lady Mt. Lions hosted PVC Conference rival Moorefield on Wednesday February 19th for the last game of the regular season. Tucker County got off to an early lead and held off Moorefield late for a 46-44 victory.
Tucker County used an 8-2 run to close out the first quarter to take a 10-6 lead after one quarter of play. The Lady Mt. Lions built a 18-8 lead early in the second quarter and Tucker County edged Moorfield in the second quarter 20-15 to make the halftime score 30-21 Tucker County.
The Lady Yellowjackets fought back in third quarter as they outscored the Lady Mt. Lions 10-5 to cut the Tucker County lead to 35-31 after three quarters. Moorefield would edge Tucker County 13-11 in the fourth. Tucker County's Gracie Rapp, however, made a free throw late to give Tucker County the 46-44 lead and a Moorefield shot was blocked at the horn to give the Lady Mt. Lions the win 46-44.
Terra Kuhn led Tucker County in scoring with 24 points, 14 rebounds and Kadie Colebank added 12 points, 12 rebounds, 6 blocks. London Hood chipped in with 5 rebounds, 4 points, 3 assists and Gracie Rapp had 5 rebounds, 4 points, 3 assists for the Lady Mt. Lions in the win. The Tucker County JV got the win in their last game of the season 40-23.
Tucker County(15-7) were scheduled to start Sectional play on Tuesday February 25th at home against Union. Tuesday's winner will then play the winner of Moorefield/Pendleton County on Thursday February 27th at Petersburg at 7pm for the Sectional Championship. For more info go to TuckerCountySportsCom.