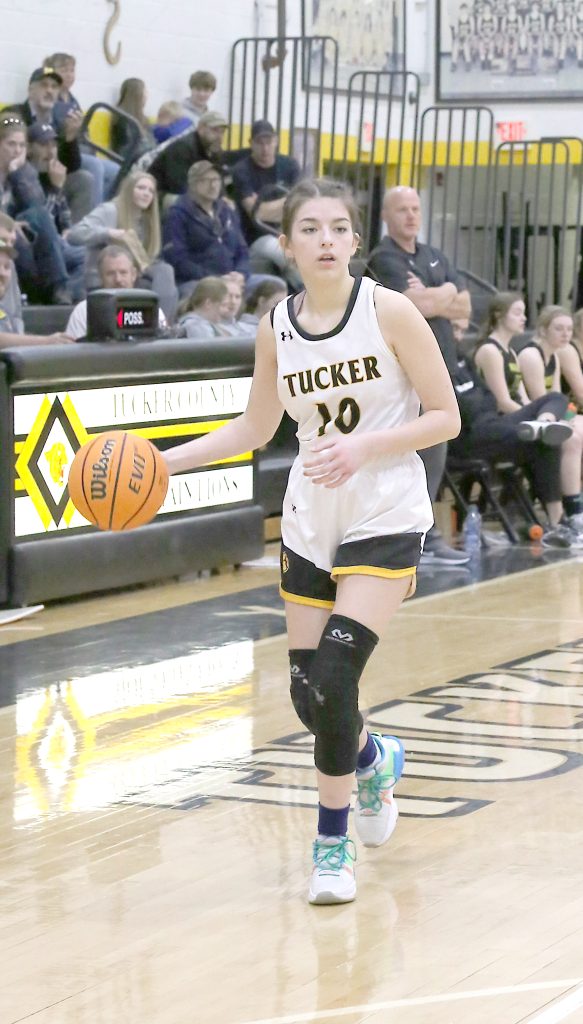 By Chris George
TuckerCountySports.Com
FRANKLIN – The Tucker County Girls' Basketball team traveled to Pendleton County on Monday February 13th for varsity only PVC game with the Lady Wildcats.  The Lady Mt. Lions held off a Pendleton County comeback attempt to capture the road win 58-56.
The Lady Wildcats outscored Tucker County in the first quarter slightly to give Pendleton County a 12-8 lead after one quarter of play.  The visiting Lady Mt. Lions then got their offense going in the second quarter as they outscored Pendleton County 25-9 to give Tucker County the 33-21 lead at the halftime break.
In the third quarter the Lady Mt. Lions built their lead up to 19 points before Pendleton County started making a comeback.  The Lady Wildcats won the third quarter 15-11 to make the score 44-36.  Pendleton County continued to chip away at the Tucker County lead as they cut the lead down to 2 points with 14 seconds left in the game.  The Lady Wildcats three point shot was blocked as time expired and Tucker County picked up the road win by the score of 56-54.
The Lady Mt. Lions were led in scoring by Macy Helmick with 17 points and Kadie Colebank had 15 points, 16 rebounds for Tucker County in the win.  Ericka added 7 points and 10 rebounds for the Mt. Lions in the win.
HAMBLETON – The Lady Mt. Lions hosted Tygarts Valley for a JV and Varsity contest on Tuesday February 14th.  Tucker County outscored the Lady Bulldogs in every quarter to get the home win by the final score of 81-27.
The first quarter belonged to Tucker County as they led after one quarter 22-10.  The Lady Mt. Lions continued to outscore the Lady Bulldogs in the second quarter 20-12 to put the Tucker County lead to 42-22 at the halftime break.
The Lady Mt. Lions would clamp down on defense in the third as they held Tygarts Valley to just 4 points and Tucker County scored 19 points to expand the Lady Mt. Lions lead to 63-26 after three quarters.  The fourth quarter was more of the same as Tucker County held the Lady Bulldogs to just 1 point in the fourth.  The homestanding Lady Mt. Lions scored 20 points in the fourth to make the final score 81-27 Tucker County.
The Lady Mt. Lions were led in scoring by Kadie Colebank with 22 points, 13 rebounds and 8 steals.  Macy Helmick and Brylee Wetzel had 16 points each for Tucker County.  Helmick also added 8 assists in the game.  The Lady Mt. Lions JV team picked up the win also 81-57.
Tucker County(17-2) will return to action on Thursday February 23rd at Keyser at 7pm for the Sectional Championship against the winner of the East Hardy / Union Sectional Semi-Final game.  For more info go to TuckerCountySports.Com.