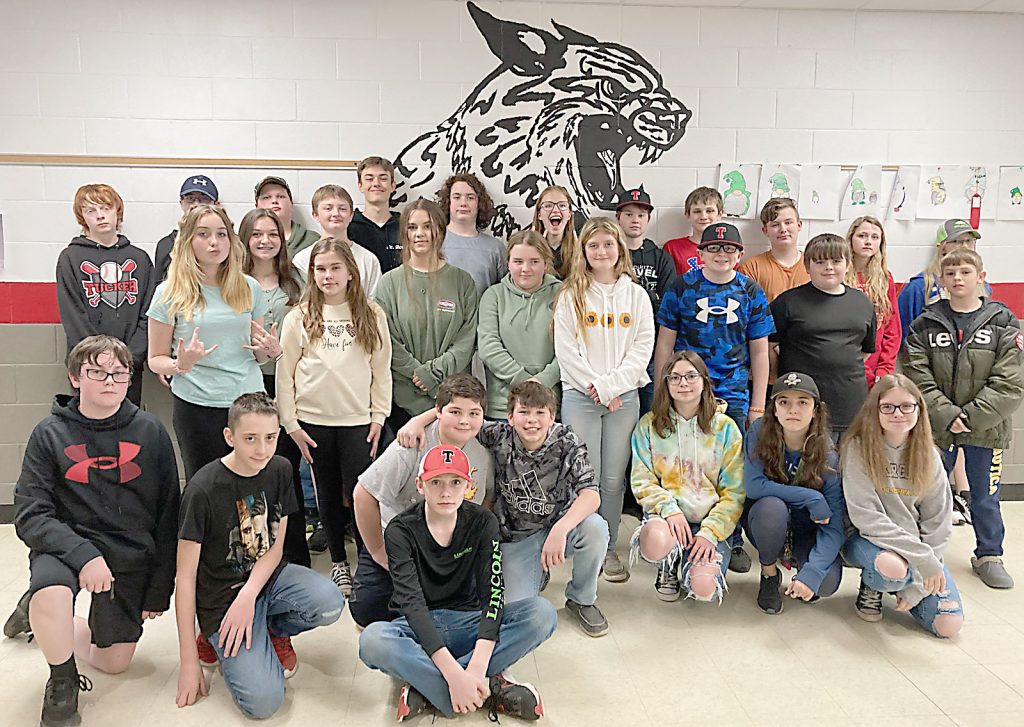 Moorefield W.Va. –  The first Potomac Highlands Agritourism Summit was held on March 15, at the Misty Mountain Event Barn. Eastern West Virginia Community and Technical College (Eastern) partnered with WVU Extension Service, the WV Department of Agriculture, Appalachian Forest National Heritage Area (AFNHA), and the Claude Worthington Benedum Foundation to make this event happen. Notable attendees include Kent Leonhardt, WV Department of Agriculture commissioner, Joe Hatton, WV Department of Agriculture deputy commissioner, and Bill Woodrum, senior program officer of the Claude Worthington Benedum Foundation (CWBF).
Dr. Dee Singh Knights, WVU Extension specialist presenting on sustainable tourism.
The event started with Dr. Megan Webb, dean of advancement and continuing education at Eastern, giving opening remarks and then going into introductions and speeches from top-ranking members of the organizations who partnered with Eastern. Dr. Dee Singh Knights, WVU Extension specialist gave a presentation on making tourism sustainable for the environment and for the future of West Virginia. "When we talk about sustainable tourism, it's about figuring out how do we connect what we are offering to our culture, our heritage, and to the things that make us uniquely distinctive…that's the only way we can stand out from the competition," said Singh Knights, "The main thing is how do we get people here. We make sure we are authentic without being too 'touristy'…It's about an inclusive tourism space. Agritourism can help the state stand out as that unique destination, that sustainable travelers are looking for."
After the main presentations ended, the audience split into four panels with moderators and speakers. Panel A consisted of moderator Dr. Dee Singh Knights, Maggie Parsons on behalf of WVDA for WV Grown, Agritourism Association, Agritourism Initiative and more, Ben Duvall, Creative Economy for AFNHA, Maya Paul, Eastern Ag Innovation for Potomac Highlands Producers, and Jesse Gandee for USDA RDA talking about the 'Resources for Improving Your Agritourism Enterprise'. Panel B consisted of moderator, Jessica Waldo, Tucker County Convention and Visitors Bureau (CVB), Athey Lutz for Still Hollow, Debra Frank with Eastern College, Amanda West with West-Whitehill Winery, Lauren Hagman with Swilled Dog, Marsha Waybright with Laurel River Club Bed & Breakfast, and Hunter Williams with Misty Mountain Event Barn, where they presented on the topic of 'Hospitality in Food and Drink Agritourism'. Panel C discussed 'Innovative Ideas to Enhance Tourism in the Potomac Highlands', and the panelists were Jenny Totten with Future Generations University, Cara Rose with Pocahontas County Conventions and Visitors Bureau, Erica Marks with Yews Mountain Center, and moderator, David Workman, Hardy County Commissioner. Alex Smith of WVU Extension Service presented panel D's topic of 'Pros & Cons of Agritourism and Seasonal "Pick-Your-Own" Models' with panelists of Miriam Leatherman of Buena Vista Farms, Michelle Weese of WF Veggies & Blooms, Michelle Wilfong of CW's Corn Maze, and Donna Alt of Brookdale Farm.
"The Summit was a great success," said Rob Burns, director of non-profits at Eastern College, "Seeing over thirty groups in the region interacting with experts in the agritourism field was energizing, so the likelihood of growth from agritourism in our area." To get involved with Eastern and learn more about area business efforts among Potomac Highlands EDAs, CVBs, and small businesses, email ben@afnha.org and join the monthly virtual meetings held on the fourth Thursday of each month at 10:00 am. Learn more about Eastern and AFNHA's partnership and Highlands Creative Economy initiatives at https://easternwv.edu/advancement-innovation/economic-development/