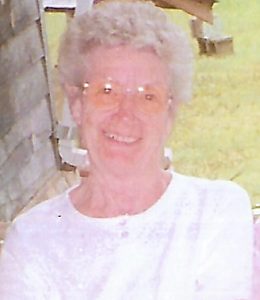 Florence Doreen "Dode" Strawderman Hart, age 91 years, a resident of Hambleton, WV, departed this earthly life Friday afternoon, July 22, 2022, while a short-term resident at Cortland Acres, Thomas, WV.  Her death was sudden and unexpected.
She was born Friday, March 27, 1931, at Mt. Zion, St. George, WV, a daughter of the late Earl Strawderman, Sr., and Pearl Etta Roy Strawderman.  On April 3, 1947, at Elkins, WV, she was married to Howard Everett "Red" Hart, who preceded her in death July 10, 1981.
Surviving are one daughter, Sharon Ann Hart Whiteley and husband Michael, Sr. of Parsons; one stepson, Chauncey W. "Bill" Hart, Sr., of Parkville, MD; one stepdaughter, Phyllis "Mook" Doughty and husband H.B. "Sonny" of California; two brothers, Earl "Jim" Strawderman, Jr. and Riley Lee Strawderman, both of Parsons; four sisters, Pricilla "Carol" Ditch and husband Merle "Lee" and their son Mark Pennington of Parsons, Gladys Gertrude Hardy of Hambleton, Clarice Lee Knotts of Hambleton; and Joyce Ann Fansler and husband Harold of Parsons; one granddaughter, Katrina "K.D." Whiteley of VA; three step grandchildren, Chauncey W. "Chuck" Hart, Jr and wife Pam of MD, Joyce Davis and H.B. "Skip" Doughty, IV of CA; four step great grandchildren, Ryan Hart of NC, Eric Hart and wife "Cath" of MD, H.B. "Tad" Doughty, V of CA, and Jarris Doughty of CA; two step great great-grandchildren: and a multitude of beloved nieces and nephews.
Preceding her in death, other than her devoted husband "Red" Hart were; one sister, Shirley Marie Strawderman Rosier; one grandson, Michael Alan Whiteley, Jr.; one step grandson, Kevin H.M. Hart; one stepdaughter-in-law, Gail Margaret Hart; and two brothers-in-law, Ernest Hardy, and Junior H. Rosier; and three sisters-in-law, Onie "Sis" Humphrey Strawderman, Ruth Gail Sturms Strawderman and Hilda Kalar Strawderman.  She also lost two nephews, Robert Rosier and Billy Junior Rosier
"Dode" Hart attended the one room school house located at Mt. Zion, Hamrick Grade School and Parsons High School.   After marrying, she moved to Baltimore.  In Maryland, her employment included two years at the William B. Riley Coffee Company and four years at Montgomery Ward.  Following these jobs, "Dode" Hart was extremely content as a homemaker raising her family.  Eventually moving from Baltimore to Harford County, MD.  Here her yard came to life with a blaze of color from spring to fall.  She was thoroughly enjoying the glory of God's colors in a variety of shrubs and plants.  Upon her return to WV, "Dode Hart attended the Hambleton United Methodist Church as an active member of the Church's Women's Society.  She participated in a myriad of church activities including numerous dinners and fund raisers. She enjoyed cooking, baking, working in the yard and volunteering to help those in need.
The family received friends at the Lohr & Barb Funeral Home of Parsons on Tuesday from 4 to 7 p.m.  Final rites will be conducted at the funeral home on Wednesday, July 27, 2022, at 11 a.m.   Reverend Neil Parsons and Pastor Susie Metzner will officiate and interment will follow at the Parsons City Cemetery at Parsons, WV.  A bereavement dinner will follow at the Hambleton United Methodist Church.  The Lohr & Barb Funeral Home is in charge of the arrangements for Florence Doreen "Dode" Strawderman Hart.  Condolences may be expressed to the family at; www.lohrbarbfuneralhome.com.