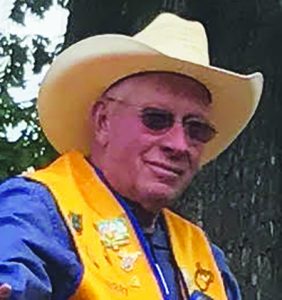 Jerry Edwin Hauser, 81, of Eglon, passed away on November 4, 2023, at Ruby Memorial Hospital, surrounded by his family. Born on April 5, 1942, in Eglon, he was the son of the late Milford Edward and Gladys Irene (Evans) Hauser. 
Jerry was a 1960 graduate of the Aurora High School. After graduating, he moved to Arlington, VA, where he worked for MelPar Laboratories, helping with research on the Apollo Spacecraft. In 1965, he moved back to Eglon to work on the family dairy farm. He enjoyed watching football, basketball, and NASCAR. He loved attending sporting events in which his sons and grandchildren participated. Jerry also enjoyed water skiing, even though he never learned how to swim, and he liked the thrill of going to auctions. On weekends and in his spare time, he enjoyed taking his tractor to shows and going on tractor drives. He was a DHIA Milk-Tester, a Grasshopper Basketball Coach, helped with 4-H and FFA, and a Lions Club Member since 1970, serving several terms as President. He was a member of the Board of Directors for both Sire Power and Southern States. 
He is survived by his loving wife of 59 years, Barbara (Artis) Hauser; three children, Terry Hauser and wife Jill, Brent Hauser and wife Marcia, and Devin Hauser and wife Amber; seven grandchildren, Andrew Hauser and wife Jacelyn, Blake Hauser, Jacob Hauser, Jenna Hauser and significant other Cody, Isabelle Hauser, Harlynn Hauser, and Eli Hauser; one great grandchild, Noah Lee Anderson; a brother, Rodney Hauser and wife Sherry; a niece, Amanda Hauser; and a nephew, Stacey Hauser.
Friends were received on Friday, November 10, 2023, from 3 to 8 p.m., at the Family Life Center. A funeral service was held on Saturday, November 11, 2023, at 11 a.m., in the Maple Spring Covenant Brethren Church with Pastor Gary Meeks and Pastor Sam Moon officiating. Friends were received one hour prior to the funeral service. Interment followed in the Eglon Cemetery. 
The Hinkle-Fenner Funeral Home is honored to be serving the Hauser family at this time.