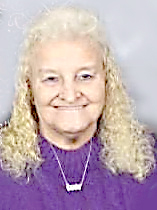 Martha Ann Freet Frymyer, 70, a resident of Clarksburg and formerly of Parsons passed from this life peacefully at her home on Monday, April 3, 2023, surrounded by her family and under the care of WVU Hospice.
Martha was born Monday, September 22, 1952, in Youngstown, OH, a daughter of the late John Stanley Freet, Sr., and Thelma Lenore Rohrbaugh Freet.  
She is survived by her companion, Terry Boyce of Clarksburg, a daughter, Tammy Frymyer Dumire and fiancé, Douglas Lyons of Oakland, MD, a step-son, Devin Boyce of Clarksburg, a sister, Carol Frymyer of Parsons, two grandchildren, William L. Lyons and Emmitt J. Lyons, of Oakland, MD, and several nieces and nephews.
Martha was preceded in death by her husband, Paul L. Frymyer, a son, Willard L. Frymyer and a brother, John S. Freet, Jr.,  
Martha attended the schools in Youngstown, OH and had worked at Deerfield and Cannan Valley Resort cleaning and was a stay-at-home housewife.  Martha enjoyed the outdoors, fishing, camping, watching hummingbirds, and spending quality time with family and friends.  She loved spending time with her grandsons and making great memories.
A visitation was held at the Hostetler Funeral Home in Parsons on Friday, April 7, 2023 from 12 p.m. until 2 p.m., the funeral hour.  Interment followed at Mt. Zion Cemetery near St. George.  The Hostetler Funeral Home was entrusted with the arrangements for Martha Ann Freet Frymyer.  Send condolences to the family at www.hostetlerfuneralhome.com.