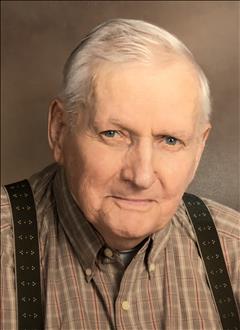 Robert Leon Kelley, 88, of Leadmine, WV passed away Monday, November 25, 2019 at Ruby Memorial Hospital in Morgantown, WV. He was born March 20, 1931 in Pierce, WV a son of the late Noah Paul and Nina Evelyn Hauser Kelley.
Mr. Kelley is survived by his wife, Delores Calcamp Kelley, whom he married on October 27, 1956. Also surviving are four daughters, Sharon (Paul) Cassidy, Leadmine, WV,  Rebecca (Joseph) Haddix, Leadmine, WV, Susan (Dave) Sharp, Hambleton, WV and Melissa (Lee) Kelley, Bridgeport, WV, eleven grandchildren, Paul Jr., Amanda, and Chris Cassidy, Jonathan (Jennifer) Rosier, Jenna (Brent) Kidwell, Bentley Haddix, Kim (Jason) Wilmoth, Beth Puffenburger, Bobby (Shelly) Sharp, Payton and Paisley Evans, Logan (Hannah) Evans, great-grandchildren, Trey and Morgan Key, Ember Kidwell, Anna and Ava Wilmoth, Hailee Haddix, Tristin (Shawnee) Grady, Andrew and Kinley Puffenburger, Marika, Brody, and Annabeth Evans, two great-great-grandchildren, Creed and Airabella, one brother, Dennis (Granada) Kelley, two special aunts, Lavera Kelley and Delores "Tootsie" Kelley.
In addition to his parents, he was preceded in death by one son, Lawrence Paul "Skippy" Kelley, one sister and brother-in-law, Marion and Donald McIntire, two brothers and sister-in-law, Ben Kelley, Harold and Carol Kelley.
Mr. Kelley served as a medic in the United States Army during the Korean Conflict. He was a carpenter by trade, and later in life, worked for Cortland Acres in maintenance until retirement. He was a lifelong member of the Leadmine United Methodist Church; a member of the Terra Alta VFW, the Mt. Top Hunting Club, and the C.E.R.T. Team. Leon's hobbies included making rugs, hunting, and fishing.
Friends were received at Hinkle-Fenner Funeral Home, Friday, November 29, from 3 – 7 p.m. Funeral services were conducted 11 a.m., Saturday, November 30, at Hinkle-Fenner Funeral Chapel with Rev. Robert Leard and Rev. Brad Barton officiating. Interment followed in Accident Cemetery, Eglon, WV. Hinkle-Fenner Funeral Home was entrusted with the arrangements. Condolences may be made to the family at www.hinklefennerfuneralhome.com